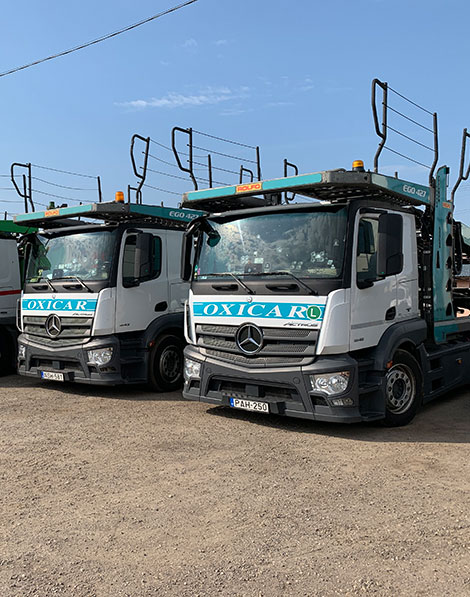 Constantly renewed
fleet
About Us
Decades of experience
in finished vehicle

and freight transport.
Oxicar-Trans Kft. Started its activity in 1998 as a family business. Its legal predecessor was Oxicar GM.
The family founded and owned company's main profile is domestic and international finished vehicle transport, freight transport and forwarding. We fulfill our regular and spot orders.
based on the needs of Hungarian and international small and large companies,
manufacturers, handlers
as well as individuals.
Domestic and internationational

finished vehicle transport
We carry out our main activity domestic and international finished vehicle transport to the EU member states with our own fleet of trucks.
Our main routes: Austria, Germany, France, Benelux, Italy, Spain, Denmark, Poland, Czech Republic, Slovakia, Slovenia and Hungary
Our constantly renewed fleet currently consists of 5 car transport trailers (8-9 unit) and 1 small car transport trailer (2 unit).
Our own service technicians and service station ensure the continuous maintenance and servicing of the technical condition of the fleet.
Our technology consists of Mercedes-Benz and VOLVO tractors and Kässbohrer / ROLFO bodies.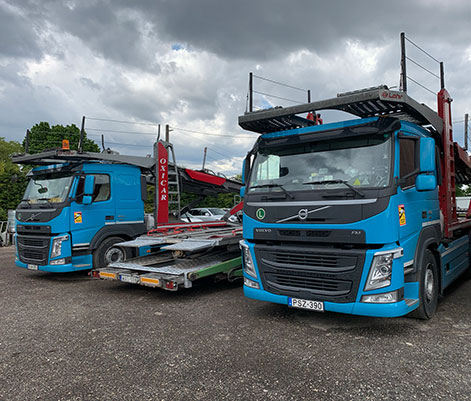 Our story
Our company history
Establishment of Oxicar-Trans LLC
Our company started its operation in Érd, first with one truck, an office employee and a driver
Moving to the new location
We built our new site on an area of 5400 m2. Here we can store our trucks and shipments in a secured place that is closed and has 7/24 surveillance CCTV. The new office is 2 floors high and around 200 m2
Strategy partnership with Walon CZ
For many years, our company has been performing key transportation tasks in the field of new and used car deliveries from the Czech Republic / Slovakia to Europe
Strategy partnership with Dolo Trans
Since 2020, our company's site in Érd has also operated as a logistics compound for AUTO1, which sells used cars